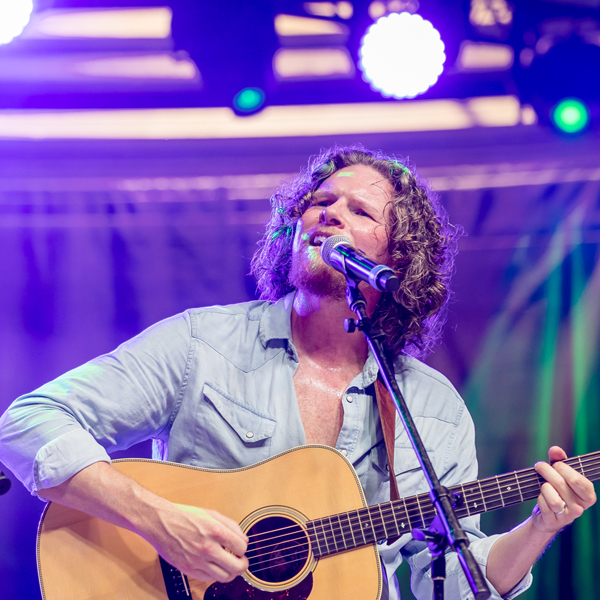 Josh Martin knows how to dance the fine line between radio country and his deep-holler Kentucky roots. It's clear the songwriter/vocalist/guitarist is no stranger to longnecks and pick-up trucks –but he's even closer to the bluegrass of his youth. His latest album, Nothing Holding Me, is taut balancing act of accessibility and credibility, replete with honest songwriting and extraordinary musicianship. His songwriting is a testament to life in Kentucky, where he used to run up and down the holler roads –going anywhere he wanted, just because he could. That freedom, he says, rings out in every note he plays. You can hear traces of Guy Clark and Darrell Scott in his lyric, and the echo of John Mayer and Tony Rice in his guitar licks –and a hint of old-time spirituality in his voice. His songs are both smart and accessible, running wild and smiling back at Nashville from the open road. Martin is at the apex of his musical freedom, not afraid of joy or sorrow, just eager to share what he loves with the audience.
Jenee Fleenor is the most in-demand fiddler in Nashville. She is reigning three-time CMA Musician of the Year whose touring credits include Steven Tyler and Blake Shelton. Fleenor has a display in the Country Music Hall of Fame and, in a story published in Wide Open Country, her peers described her as the G.O.A.T.
Barry Bales having marked 30 years as a professional musician, Bales is one of the most respected bassists in acoustic music. An integral member of Alison Krauss & Union Station since 1990, he is also a successful songwriter, session musician and producer. Barry's awards include 15 Grammys, 23 International Bluegrass Music Association awards – including 4 Bass Player of the Year trophies – 1 Country Music Association award, and 2 Academy of Country Music awards, including Song of the Year for the Top 10 hit "Nobody To Blame", written with and recorded by Chris Stapleton. He appeared in the movie "Oh, Brother, Where Art Thou?", as well as contributing heavily to the soundtrack, and has recorded and performed with such artists as Willie Nelson, Merle Haggard, Dolly Parton, Shania Twain, Kenny Chesney, Dwight Yoakam, and Vince Gill.
Matt Menefee has received accolades as one of the premier banjo virtuosos on the scene today. Menefee loves to showcase the unique versatility of the banjo beyond Bluegrass, in styles as diverse as Hip Hop, Rock, EDM, Jazz, and even Classical music. He has performed and recorded with artists and producers including Mumford & Sons, Béla Fleck, Dan Auerbach (of the Black Keys), and Old Crow Medicine Show.
Seth Taylor is a multi-instrumentalist from the mountains of western North Carolina who has earned the reputation of being one of Nashville's top 'pickers'. Taylor grew up playing bluegrass and acoustic music, and landed his first professional touring gig at age 15. After moving to Nashville in 2012, he joined acoustic supergroup Mountain Heart. Taylor has shared the stage with many artists including Ricky Skaggs, Dailey & Vincent, Craig Morgan, Carly Pearce; performing at landmark stages such as Grand Ole Opry, Ryman Auditorium, Carnegie Hall, and Library of Congress. While touring has been a big part of Taylor's career, he has also become a sought-after session player, playing on countless recordings including current Billboard #1 American Heartbreak by Zach Bryan.