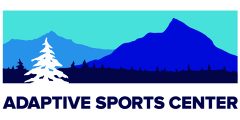 The Adaptive Sports Center (ASC) is a national nonprofit organization located in the beautiful mountains of Crested Butte, CO.
The ASC enhances the quality of life of people with disabilities through exceptional outdoor adventure activities. Programs are inclusive to friends and family and are taught by expert professional adaptive instructors. Now in its 35th year of operation, the ASC provides therapeutic adventure programs, ranging from skiing and snowboarding to rock climbing and mountain biking, to over 1,000 people each year.
On any given day, a child with a rare mitochondrial condition might sit side-by-side on a fit-up bench with a war veteran battling posttraumatic stress and share a laugh. The ASC works with anyone with any type of disability who exhibits a desire to participate in activities, regardless of their capacity to pay.
The successful programs the ASC provides are inclusive to families and friends, empower our participants in their daily lives and have a positive enduring effect on self-efficacy, health, independence and overall well-being.